Election date: March 18, 2023
The KIUC Board holds an election each year to fill three positions. The 2023 election date is Saturday, March 18. There are 3 ways to vote, by paper ballot, online or by phone. If you have questions about marking your ballot, please call 877.324.7655 and leave a message and someone will return your call.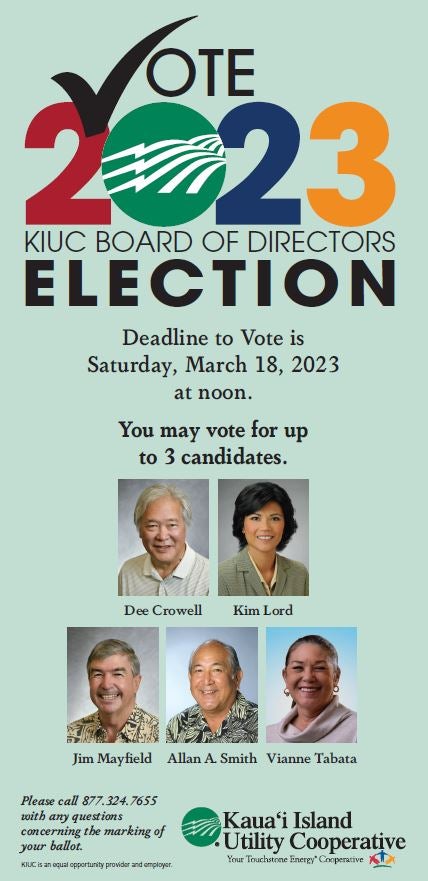 Election date: March 18, 2023
All potential candidates must complete the Authority to Release Information Form, Prospective KIUC Board Candidate Application, and sign Board Policy 18 - Board Member Qualifications and Eligibility. You may either submit these forms on-line (first link below), or print and fill out a hard copy PDF (second link below). If you wish to have your nomination considered by the Nomination Committee, the forms must be received in the KIUC main office (4463 Pahee Street, Suite 1, Lihue, HI 96766) no later than Monday, November 14, 2022. For a hard copy submission, you may either leave it in the drop box outside KIUC's main office or scan and email it to: info@kiuc.coop.  
All potential candidates must also complete a Director Duties and Responsibilities orientation. 
Important Dates:
Nominations Deadline    Monday, November 14, 2022
Petition Deadline    December 28, 2022, 4 p.m.
Directors Duties Orientation    Thursday, January 5, 2023, 4 p.m.
Election Deadline to Vote    March 18, 2023 at noon Hawaii Time
Election Day    March 18, 2023
Installation of new directors
Authority to Release Information Form and Prospective KIUC Board Candidate Application
Board Policy 18 - Board Member Qualifications and Eligibility