Appliance Replacement Rebate
This residential incentive program is designed to encourage members to discard older, less efficient appliances and replace them with new, energy-efficient models. Qualifying rebates will be credited to your account within 3-6 weeks from the date approved. New construction does not qualify.
Rebates available:
$50 Clothes Washers
$50 Clothes Dryers
$50 Refrigerators
$50 Freezers
Download the form(s), fill it out and send it through the Contact Us page.
You can also email the documents to info@kiuc.coop, mail to KIUC, 4463 Pahee Street, Suite 1, Lihue, HI 96766-2000, or place in the drop box located at our Lihue office.
Qualifying Member Appliance Replacement Program
This program helps qualifying low-income seniors (60+) reduce their residential electricity use by replacing older, less efficient refrigerators and defective electric water heaters with new, more efficient ones at no cost to the member.
KIUC partnered with the County of Kauai to administer the program. For more information and to determine eligibility, interested members must call the County's Agency on Elderly Affairs at 808.241.4470.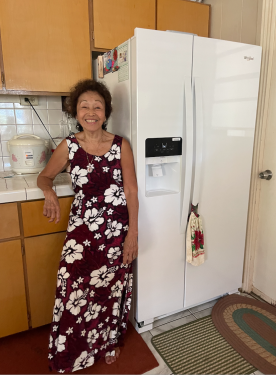 "Being a caregiver all my life, I've learned to look for programs and finally I found the QMARP Program. I'm very thankful for this program and the staff for providing this opportunity for the people that are really in need. It's a very wonderful program" -Sofia Villanueva